RESULTS POSTED – KISSCROSS RACE #3 GR BIKE PARK P/B FREEWHEELER BIKE SHOP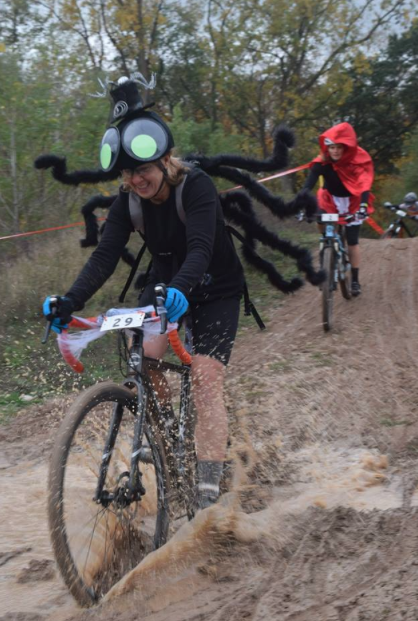 ---
Click here for Series Standings and Race #3 Results
It's gonna be a long one…
The day started with our arrival at Gr Bike Park which was the recently changed venue due to the heavy CX weather last week. We arrived at 7:45 to find a line of Freewheeler Racing folks waiting for us at the gate ready to GO! We got the course sorted in record time and with a few small adjsutments, were ready for the kids race… Except that I forgot the kids prizes! Bryan Obermeyer saved the day, (one of a couple times) and grabbed them from Kisscross HQ in Eastown. He arrived just in time for delivery and we had happy kids with snacks, stickers and medals. Meanwhile, Wyatt was in the woods getting' it scary with some strange decorations, a hockey mask and a chainsaw ala Thomas Landry.
The beginner race was dominated by Patrick Estefan in the Beginner Men's field, but alas he is "not of age" so we swagged him some Kenda Tires in lieu of the traditional sixxer of fine Founders Brewing Co. ales. Joel Van Kuiken, however had no such issues as he picked up his first CX win on his brand new, super-dope Scott bikes Addict. Aaron Clark cruised to a solo victory in the "Distinguished Gentleman's" category in a very fly suit, I might add.
The story of the day was the Women's field. Rider count was just three shy of the Beginner's Men's field. The women's costume game was on lock, and they came to race! Valerie Hyrman aka Flying Purple People Eater joined us all the way from TC and managed the holeshot. She looked to be going tape to tape but Marie Voss, also all the way from TC, had other plans. The butterfly fairy dropped the hammer and on lap three the FPPE was chasing. Melissa "Red Riding Hood" Werkman was lamenting her soiled camisole when "Yosemite Sue" Swiger Kunnath claimed, 'I'll soil your camisole' NSFW ladies… "Yosemite Sue" also picked up a $170 Gift Card for some fresh Merrell kicks for winning the crowd-judged costume contest! Sarah Garrett made her debut appearance for the year and Lydia Fotis-Sweetman continued her domination of the Master Women's field.
Linda Thompson-Poeder joined us for her first CX race ever, donated some skin from her face to a tree, scored a 2nd place finish, and with a costume worthy of recognition, officially receives the "Promoter's Choice" award and can pick up her $25 SLOWS BAR BQ Grand Rapids gift card and Shimano-Road swag bag.
In the Expert/Elite class, Craig Gietzen found the top step on his new curly bar bike and was the only Masters Elite to finish on the lead lap. The Masters Men's race start may have been a bit of a cluster thanks to "your's truly". Apologies for that..
It looked to be business as usual for Judah Gustafson as he ramped it up for the holeshot and was a crowd favorite once again demonstrating his bike-handlng prowess and bunny-hopping skillz. Derrick Ubbink, Shawn Davison and Lucas Van Drunen rolled the train by him on lap two. It was all for naught as Nathan Williams and WR Morris had their eyes on the that six-pack-of-your-choice at the finish! Mr. Williams prevailed in a race that ended with a completely shattered Elite field. Everything was left on the course, except a hub cap… Mr. Christopher Jensen raced his SS and was the recipient of not one, but three costume handups, and also completed a lap with a found hubcap which cost Greg Newland a fiver… Joe Winstondominated the ESS field by over a minute.
The Sport men were keeping it weird. Our good friend and token roadie Seth McDonald made his CX debut this week and didn't die. Alex "Jesus" Voorman duked it out with David "Santa Claus" Boerman in the final battle of the war on Christmas. Jeff Darter and I battled it out for the holeshot. Jeff won (the holeshot and the race) and I got to ride through some puddles. Kyle Wigboldy may have gone over the handlebars during a high-five handup that went terribly, horribly wrong, the horror… nothing to see here. Alex Yingling prevailed and is making Brad Rivard work for those Series points in the Sport Men's field.
Lots of fun and amazing people – make it fun and amazing… That's all from Kisscross HQ tonight. Results and Series Standings are forthcoming. Thank you all for coming out!
We'll see you Sunday, November 12, for Kisscross #4 at Lakeside Park, Caledonia hosted by TNR!
Click here for Series Standings and Race #3 Results
---