Manhattan Park – Season Wrap Up!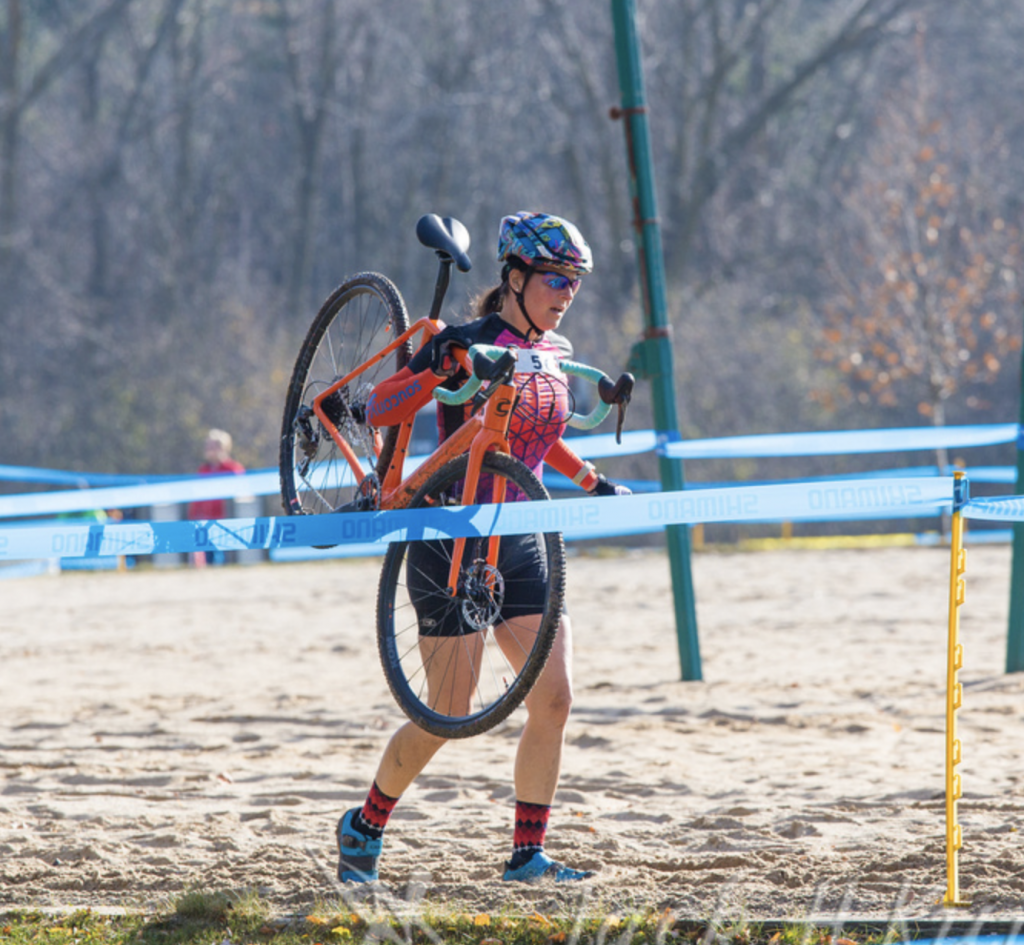 ---
The final race of the Kisscross season is behind us and it was a cooker.
With the weather in November forcing us to postpone the race, the Manhattan Park venue offered us something a little different this year as the ground is on it's way to being frozen and the conditions were dry. This made for a relatively fast race which enabled us to extend the length of the course. With the half-lap prologue at the beginning of each race, competitors got their money's worth with all races running a tad over their respective times.
It was a foggy morning as the sun rose over EGR and we began setting stakes before light. Wyatt and I were joined by the usual suspects from the Questionable Traction practices and we set to work assembling the course. The course offered a little bit of everything to the racers, so it was really anybody's race. It was a challenging course, as a season finale should be; featuring some rooty off-camber turns, a small amount of singletrack, a couple steep but rideable climbs, some ripping transitions on concrete and hard-packed gravel warning tracks, and a long stretch of sand extending the entire width of the three volleyball courts.
Once again the beginners race did not disappoint. It did get off to an unfortunate start for Jason Ross as he suffered a badly torn achilles tendon in the first downhill chicane. We wish you a speedy and complete recovery.
There were some scores to settle out there Sunday and the action was intense. In the Juniors, Nicholas Budden walked away with another win. We hope to see him make it out for the points series next year. The race for second came down to the sprint with Christian Dershem attempting to hold off an intense come-from-behind effort by David McMullen. David made his move on Christian coming into the last turn, Christian looked poised to retake the race at the line, but David had just enough left in the tank for a final boost to stick the sprint in a full blown power matchup. I've never seen a Juniors finish like that, they left nothing on the course. A great finish for a couple of riders that I'm sure we'll be seeing for years to come. Owen Handwerk had some difficulty with a crash on the course, but has really hit his stride this year, and was our Juniors Kisscross Point Series Champion. A job well done Owen!
The Beginner Men's race was anybody's guess. However, Dylan Krupp soon ended the guessing, keeping Brandon "the Greek God" Munson from the season ending upset, as he went tape to tape for the race, and series win. Andy Russcher rounded out the number three spot with solid results all season long. The Beginner Masters points race saw Jerry Missel and Rob Bell tied for first with 175 points each. After we hunted them down to give them the good/bad news, they needed to sort it out… As both of them were already in street clothes ready to party, it was decided that they would do an abbreviated one-lap shoot-out in accordance with the very "serious", strictly-enforced, and nonexistent Kisscross Rule Book. The course was a full lap, less the two brutally demanding climbs. It seemed that something was afoot when they pranced over the barriers with the gracefulness of synchronized swimmers. All bets were off at the final turn and the sprint was on. They were side by side with 25m to go and Jerry hit the afterburner for the series win. Pretty sure Kevin McWilliams was laughing to himself with a bevy in his hand, as he sat comfortably in third watching the shenanigans.
The Elite Men's field was in good spirits as they waited for the shoot out to conclude. With two wins and only three of four races calculated, Nathan Williams was in the cat bird's seat. Judah Gustafson needed a big day to stay on the throne. Lucas Van Drunen was looking to capitalize on any mistakes made by either of these guys. Derrick Ubbink was looking to improve his fortunes for a chance to sneak up in the standings with a long-shot at third in the series. He was primed for action taking the hole shot after a hard day of racing the previous day at the MBRA MI Cyclocross State Championship Race. His hopes were dashed on the first lap after his bike ate the real derailleur in the right hand turn going into the sand pit. Judah was upright and riding through the sand pit on the first lap, but by lap three had been caught by Nathan, who after gaining the lead, never relented. Lucas sat comfortably in third for the entire race and kept Derrick at bay for the series as well. Tim Baker managed to best the field in the Elite Master Men class. Tim's win at Lakeside Park proved key, as he was able to slide up from third to second in the points with his win at Manhattan. Marti Hayack protected his third place position in the point series final with a comfortable margin. The Elite SS Men remained in their respective positions from last week with Tom Landry in the top spot in that class, Joe Winston finishing third in the race and second in the points. Eric Wolting was right behind him, but alas, remained third in the points. One has to wonder with a second place at Manhattan if Scott Gustafson couldn't have been a series contender…
Emily "Hambone" Hammes has dominated the 2017 Kisscross Season with three wins, and after punching it for the holeshot, appeared to be heading for win number four. However, Sarah "Ra" Williams seemed to have a different idea. After racing two events at the MBRA MI Cyclocross State Championship Race on Saturday, and riding to second and third place finishes, Sarah was looking for a "W"! At the dirty-side barrier dismount up to the off-camber downhill chicane, Sarah made her move and remained in front for the duration. Sarah's win put some comfortable distance between herself and Aliece Winston who remained in third in the standings. With back problems plaguing the latter part of her season, Lydia Fotis-Sweetman had seen her commanding lead in the points fall into question. Corinne Strumberger was tenaciously chipping away at those points with every pedal stroke. Nobody saw Linda "LTP" Thompson-Poeder coming as she slipped into the series (and her first Cx race) at GR Bike Park with a surprise second place wearing a spider costume. LTP was hooked, and the field was left to reckon with it. While Corinne finished an impressive second to Marylynn Webster, besting both Lydia and LTP, it wasn't enough to retain her second place series points as Lydia managed to hang on to the top spot, and LTP slipped by Corinne into second in the series points. Tori Jaglowski did in fact sail to an easy season ending Kisscross Points Series victory, smiling the entire race.
Brad Rivard had hopes of dethroning Alex Yingling who has been on the top of the points series all season. Hayden Fox was looking protect his position in third and bring home a six-pack for Grandpa. Rivard put up a "W" at the fast and furious Lakeside course, but could he do it on a course as technically demanding as Manhattan Park was this year? It turns out that he could, and did in fact lead from the get-go. Brad rode his Super-X to a second win in as many weeks and relegated Alex to second in points. Darryl Parent rode to a commanding second on the day, which was enough to knock young Hayden Fox out of the top three and dash Grandpa's hope for free beer. Jeff Darter once again had his work cut out for him as Matt Sayre and Ed Altwies turned out to be this week's spoilers. Leonard Van Drunen kept him within spittin' distance, but wasn't able to convert and managed second in the points. Marty Mrozinski fell to third in the points but I doubt that he minded much after taking home a beautiful custom Aileron wheel set from our friends at Velocity USA!
Congrats to all of our racers! Whether you're stepping up to the podium or just trying to pick off the person in front of you, at the end of the day, every single racer is the heart and soul of Kisscross. I really love seeing the intensity, the fun, the improvements, the smiles, the tears and everything else that makes Kisscross the most amazing, insane, type 2 fun you can have on a Sunday afternoon! I'd also like to thank and congratulate all our raffle prize winners, and the sponsors who made that possible, including: Shimano-MTB, Pearl Izumi, Velocity USA, Founders Brewing Co., SLOWS BAR BQ Grand Rapids, Merrell, Smith Optics, DAKINE, Kenda Tires USA, Geeze Bars, Moxie Wild, Big Bob's Pizza, Michigan Coast Riders, Cannondale and last but certainly not least, our title sponsor, Greenware USA!
If you appreciate the races and the swag offered at them, PLEASE pass along a big "THANK YOU" to our sponsors every chance you get. They make it all possible!
Also I want to extend a huge thank you to all of you who volunteered throughout the year. There are too many to name but the folks from all the teams, the photographers who have come out and spent hours shooting, editing and posting amazing photos, Jack Kunnen Photography, Rob Meendering Scott Wycoff Real Estate Photography, and more… Tammy & Jim Houda and their family, Melissa Werkman, Bryan Obermeyer, Evan Wilson, Cathy Pratt, Michiana Timing, my partner in Crime Wyatt Thorndill Lee and everybody else who gave your time and energy to the season! Thanks for sharing your love of Cyclocross!
---