Art Vans Sports Complex Cyclocross Race Sept. 15th 2019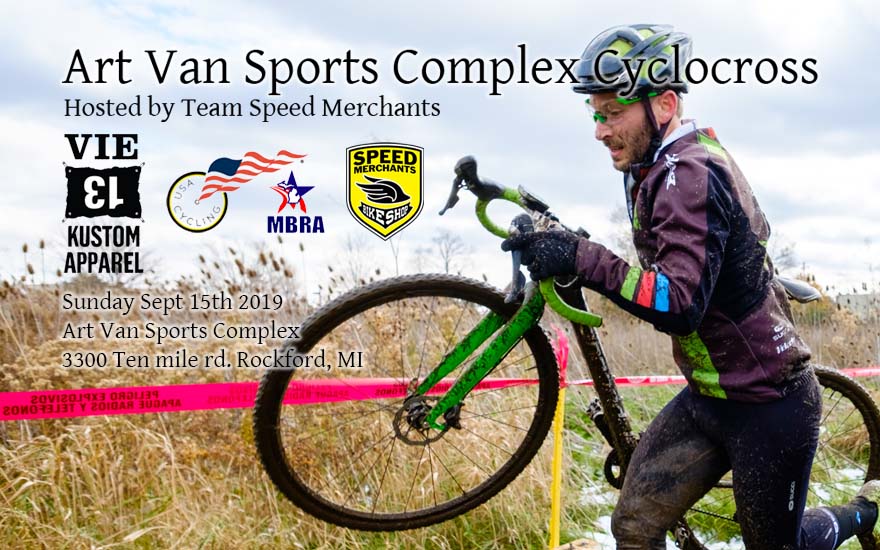 ---
Welcome to the AVSC Cyclocross hosted by Team Speed Merchants. Lot's of work has gone into the planning, course design/layout, adding permanent features and prepping the course for your cyclocross racing pleasure. We truly hope you enjoy your racing experience with us at the Art Van Sports Complex Cyclocross.
AVSC is charging a $5 parking fee and they will also be operating food concessions all day.
Restrooms will be open all around the complex.
Registration will be open by 7:30am you MUST be registered and checked in 30 Min before you race.
Second class registration is $20 (no late fees for 2nd class) day of the race only…for any pre OR day of registered racers.
Junior racing registration is FREE today for the 9am race only provided by Team Speed Merchants.
Races will be Chip timed & scored
Racers MUST have race your number attached RIGHT SIDE PLEASE and your assigned timing chip attached on their helmet to be scored.
Please be in STAGING 10 min before your race time.
HELMETS ARE REQUIRED FOR CYCLOCROSS PARTCIPATION.
Race runs rain or shine. NO REFUNDS.
All USA Cycling rules apply.
CYCLOCROSS racers must provide a valid USA Cycling annual license at registration or will be required to purchase a one-day license at the event ($10). Parent or guardian of those under 18 will be required to sign, no exceptions. Cyclocross racing age is your age as of DECEMBER 31, 2020. Cyclocross racers from outside the U.S. must show a valid UCI license or purchase a one-day license.
No bar ends or clip on aero bars allowed.
Awards to the Top 5 in all 17 classes – consisting of Medals and sponsor prizes.
A $400 purse each for the PRO 1/5 Elite Women and PRO 1/5 Elite Men. Junior racing awards provided by Machine Star – Elite Men & Women Purse provided by Team Speed Merchants
Velocity USA is giving away a of Major Tom wheel set all racers have a chance to win!
2019 Art Van Sports Complex Cyclocross EVENT SPONSORS: Team Speed Merchants, Vie13, Velocity USA, Machine Star Wynalda Packaging, Cedar Springs Brewing Co., West Michigan Sports Commission, Gordon Water, Geeze Bars, Team Speed Merchants, River City Mechanical, Shimano, Coit Avenue Gravel Co., The Score, Grand Woods Lounge, Gentle Giant Dog Grooming, MooseJaw, Berry Roubaix, Bridge Street Burger Shack, Bostwick Lake Inn,Donkey Taqueria, West Michigan Sports Commission, Gordon Water, and Geeze Bars.
Race results and more information can be found at Michigancyclocross.com Thanks for racing with us!