Welcome to Kisscross 2022!   There will be lots of changes from 2021. Please check out the site and email us with questions. 
A group started Kisscross back in 2002 because they saw the need for cyclocross racing in the West Michigan area. The closest 'cross races around were in the Detroit area and had a $30+ entry fee.  Not to mention going through a tank of gas and spending an entire day driving for a short 40 minute race.  K.I.S.S.CROSS was born. Keep It Simple Stupid. The idea here was to have a series of cyclocross races that were fun, affordable, low key and challenging for riders of any skill level.
Our races tend to be held in City or County Parks and are very spectator and family friendly.  Participants can use any non-motorized bicycle type (gravel, cyclocross, road, mountain bike, hybrid, tandem).  The one day course snakes through the park through grass field and sometimes dirt trail.  There are a few obstacles like steps or wooden barriers on the course to get around or over.  Each lap is about 1 mile long and can be seen from multiple vantage points.  Participants do approx 5-10 laps depending on course distance and which race they are in.  Races are 40 or 60 min.  Local teams, clubs and individuals "host" each race, setting up and tearing down the course which helps to keep the costs of the race down. It can take as long a full day to set up a course so please thank them when you have a chance.
Short answer is anyone able to ride, push and pick up a bicycle.  You should be healthy and in good physical condition as this is a strenuous activity. 
These races are for beginners or experienced racers who want to compete against themselves and others while getting the best workout available on a bike.  
No license required
Never tried cyclocross before? Want to learn more about the sport? This is a great opportunity! Come out and give it a shot!  The B race is designed for those not as fast, newer to cyclocross, or just wanting to challenge themselves versus the course to see if they can complete the series.  Same course as A's just a shorter race length.  
The A race is for those who want to compete against others over a longer race.  If you're not sure which race to enter email me and we can discuss it.  
A cyclocross bike is not necessary, mountain bikes, gravel bikes and even fat bikes are allowed; just remove any bars ends or aero bars if you have them. Heck, some folks even use road bikes if they can fit knobby tires.
A race will be approx 60 minute. After everyone in the A race is underway we will determine how many laps the lead pack must do to come as close as possible to your designated race time. At this time we will hold up the "laps to go" cards so you know how many laps are left. If you get lapped by the leader or leaders you will be scored as being down a lap. Everyone finishes on the leaders lap.
B race the goal will be 40 min.  **edits** We will look at the first few lap times to guesstimate on the B race number of laps and give you a solid number a few laps in.  **Now that the women's race is after the B race we will be limiting the time to 40 min.  40 min on a cross course will feel like hours on gravel.  It is quite an intense workout.  
Women's race- 40 min same format as A and B.  This will be the race for the series jersey.  Women may ride A, B or beginner races as well if desired.  
Riders, please refrain from riding the course during other's races.  There will be a few minutes before each race to ride the course. 
Prizes and Categories:
A Race:  We will have age group category results for Men under 35, 35-54, and 55+.  Women will be one category for all ages.  All A classes will be racing together.  Each category will have a  leader jersey.  Podium pictures for top 3 each category immediately post race mandatory.
B Race:  Prizes assigned randomly, given about 5 min after the race.  No separate age categories, results will be listed on the website.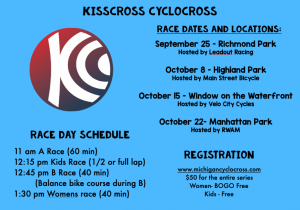 Number pickup 
Starts at 10 am race day.  Please sign a waiver in exchange for your number, you will only need to sign one race.  You will use your number for the whole series so please don't lose it. 
Race Schedule 
Please be to the start 5 min before the race
11:00 am to 12pm – A race with podium pics immediately after. 
12:15 am Kids
12:45pm - B race
1:30pm -Womens
Race Entries
Season Entry all 4 races $50 
Women BOGO
No licenses required
Q: I have never tried cyclocross, what race should I sign up for?
A:  If you have raced gravel, mtb, road etc and placed well or were competitive do the A race.  If you are newer to any racing or finished another race halfway down try the B race.
B = beginner mountain biker/Cat 5 road racer
A race = sport mountain biker/Cat 4 road racer
A  race = expert and elite mountain biker/Cat 3, 2, 1
Q: Can I use a mountain bike or fat bike instead of a cross bike?
A: Yes, any type of bike is ok.  Remove any bar ends or aero bars.
Q: Can I do more than one race on the same day?
A: Yes.  With our schedule the A racers could do the B race after.  However, please be courteous of the B racers.  B only racers or first race of the day racers have right of way.  
Q: Can I warm up on the race course?
A: Yes but not during a race. 
Q: Do you have podium awards?
A: We will have podium awards and pics for the A racers and women.   All racers also have raffle style prizes given out same time as the podiums.
Q:  I only did 7 laps and everyone in front of me did 8 laps. Why is that?
A: The leaders of the race lapped you therefore you are down one lap, every one finishes the race on the leaders lap.  This way everyone gets the same amount of racing time, but maybe not the same distance.
Q: What are the entry fees?
A: $50 for the season 
Q: What are the start times?
A: Start times
11:00 am = A race
12:20 kids race 
12:45 pm = B race
Q: Will there be chip timing?
A: No, we will not be using chip timing. We will write down finishers as they come in.
Go to the sponsors page.  Find and click on the registration link.  Fill out the google form the registration link gets you to.  Pay $52 via venmo @Kisscross or $50 cash/check in person.
We will have you fill out a liability waver before the first race when you pick up your number.  
Registration limited to the first 100 lucky persons.  
Kids race participants do not have to register, please fill out a waiver day of and exchange for a  number.